Threaded Elbow Manufacturer in India
ANSI B16.11 Threaded Elbow Fittings, Forged Screwed, BS 3799 Screwed Forged Elbow, Hastelloy Threaded Elbow, Inconel Threaded Elbow Manufacturer & Supplier in Mumbai, India.
Monel Threaded Elbow, Threaded Elbows, Titanium Threaded Elbow, Threaded Forged Elbow, ASME B16.11 Screwed Elbow, Inconel Screwed Elbow, Brass Threaded Elbow in India.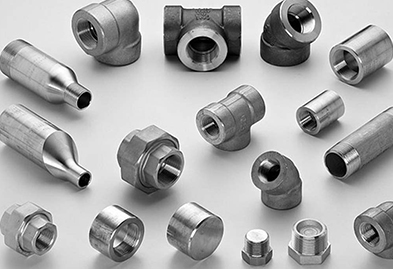 Sunflex Metal Industries is the top exporter and manufacturer of a specialized comprehensive range of top-notch quality Threaded elbow. They got manufactured or created using high quality or superior quality material with the assurance of long-lasting features and high reliability. We currently fulfill the extensive demand with the available range of elbows. Sunflex have the specialization to manufacture customized ASME B16.11 / BS3799 Threaded Elbow as per customers' specifications. Durable, corrosion-resistant elbows enable change of direction and angles of pipes. They are lead-free and feature a solid construction.
The threaded ends have both male and female configurations. These Threaded elbows are mainly used in buildings to supply natural gas or propane fuel, water supply, plumbing, drainage, fire sprinkler systems etc. Our offered range of Forged Threaded Elbow available in various sizes, thickness, and various specifications.  Threaded elbows are same as normal 90 degree elbows but they are male-female type means one end is inside threaded and other side is outside threaded.
They are used in plumbing applications that might include sewers, drainage, water supply, central vacuum systems, gas lines, compressed air, vents, and sump pump drains. The industrial applications are found in chemical, cryogenic plants, and more. Get in touch with us today with your requirement.
Duplex Steel Threaded Elbows, Aluminium Threaded Elbow, Hastelloy Forged Elbows, MSS SP-79 / MSS SP-83 Inconel Screwed Elbow, Gun Metal Threaded Elbow, Brass Threaded Elbow Traders in India.
Threaded Elbow Specifications
| | |
| --- | --- |
| Size: | 1/8" NB to 4" NB |
| Dimensions: | ASME 16.11, MSS SP-79, 83, 95, 97, BS 3799 |
| Class: | 2000 LBS, 3000 LBS, 6000 LBS, 9000 LBS |
| Types of Threaded Fittings: | Monel Threaded Elbow, Inconel Threaded Elbow, Hastelloy Threaded Elbow, Duplex & Super Duplex Elbow, Titanium Threaded Elbow, Bronze Threaded Elbow, Aluminium Threaded Elbow, Brass Threaded Elbow, Naval & Gun Metal Threaded Elbow etc. |
| Type: | Threaded Elbow |
| Specifications: | ASTM A182 & ASME SA182 |
| Standards: | ASTM, ASME, DIN, NFA, JIS, IBR & other International Standards |
Threaded Elbow Fittings - Material & Grades
| | |
| --- | --- |
| High Nickel Alloys: | Monel 400, Monel K500, Inconel 600, Inconel 625, Incoloy 800, Incoloy 800HT Incoloy 825, Hastelloy C22, Hastelloy C276, Hastelloy C-4, |
| Duplex Steel: | UNS S32205, UNS S31803, F44, F45, F51, F53, F60, F61, Duplex Steel 1.4462 |
| Super Duplex Steel: | UNS S32760, UNS S32750 |
| Titanium: | Grade 1, Grade 2, Grade 5 |
| Other Materials: | Bronze, Aluminium Bronze, Naval Brass, Gun Metal |
Types of Threaded Elbow
Threaded Elbow Other Grades
Prominent Countries Where We Export Threaded Elbow
Exporting Threaded  Elbow  to Singapore, Malaysia, Hongkong, Thailand, Indonesia, Taiwan. Other countries includes Australia, Afghanistan, Albania, Andorra, Austria, Bahrain, Bangladesh, Bhutan, Brunei, Belarus, Belgium, Bulgaria, Canada, Cambodia, China, Cyprus, Croatia, Czech Republic, Denmark, Estonia, Egypt, Finland, France, Germany, Greece, Georgia, Hungary, Iceland, Ireland, Italy,  Iran, Iraq, Israel, Japan, Jordan, Kazakhstan, Kuwait, Kyrgyzstan, Lebanon, Latvia, Latin America, Liechtenstein, Lithuania, Luxembourg, Mexico, Malta, Moldova, Monaco, Maldives, Mongolia, Myanmar (Burma), Nepal, North Korea, Netherlands, Norway, Oman, Poland, Portugal, Palestine, Philippines, Qatar, Russia, Romania, Russia, San Marino, Serbia and Montenegro, Slovakia, Slovenia, Spain, Sweden, Switzerland, Saudi Arabia,  South Korea, South Africa, Sri Lanka, Syria,  Tanzania, Tajikistan, Thailand, Turkey, Turkmenistan, Ukraine, United States, United Kingdom, United Arab Emirates (UAE), Uzbekistan, Vietnam, Yemen
Send your requirement today. We respond to all enquiries within 4-5 business hours. You can email us your requirement on sales@sunflexfittings.com
Request A Quote
Threaded Fitting Types
Threaded Fitting Material